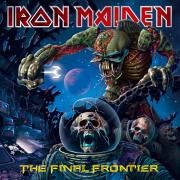 Spis utworów:
1. Satellite 15.....The Final Frontier
2. El Dorado
3. Mother Of Mercy
4. Coming Home
5. The Alchemist
6. Isle Of Avalon
7. Starblind
8. The Talisman
9. The Man Who Would Be King
10. When The Wild Wind Blows
Wykonawca: IRON MAIDEN
Tytuł: THE FINAL FRONTIER
Dystrybutor: EMI / EMI MUSIC PL
Premiera - 16.08.2010 The Final Frontier to piętnasty album studyjny Maidenów od czasu premiery w kwietniu 1980 r. To niesamowity wynik – zespół nagrywał średnio jeden album co dwa lata przez 30 lat, sprzedając w tym okresie ponad 80 milionów albumów.