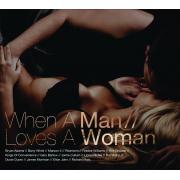 Spis utworów:
1. Percy Sledge – When A Man Loves A Woma
2. Ten Sharp – You
3. Crowded House – Don't Dream It's Over
4. Robbie Williams - Feel
5. Raphael Saadig – Love That Girl
6. Duran Duran – Come Undone
7. Maroon 5 – She Will Be Loved
8. Elton John – Sacrifice
9. Meat Loaf – I'd Anything For Love (But I Won't Do That)
10. Reamonn – Waiting There For You
11. Marr White - Love
12. Kings Of Convenience – I'd Rather Dance With You
13. The Last Goodnight – In Your Arms
14. Krzysztof Kiljański – Stay
15. Barry White – Just The Way You Are
16. Roy Orbison – She's A Mystery To Me
17. Kenny Rogers – Lady
18. Don McLean – And I Love You So
Wykonawca: RÓŻNI WYKONAWCY
Tytuł: WHEN A MAN LOVES A WOMAN
Dystrybutor: POMATON / EMI MUSIC PL
Premiera - 26.10.2010. // ZAWSZE…, WSZĘDZIE…, MIMO WSZYSTKO…, ZA WSZYSTKO… // "When A Man Loves A Woman" to wyjątkowa składanka, na której wyjątkowi mężczyźni śpiewają dla kobiet…o kobietach "When A Man Loves A Woman" to aksamitne, poruszające męskie głosy zamknięte na dwóch krążkach albumu "When A Man Loves A Woman" to zbiór utworów, które poruszą niejedno kobiece serce "When A Man Loves A Woman" to między innymi Bryan Adams, George Michael, Barry White, Amos Lee, Richard Marx, Gareth Gates, Luther Vandross…. Obok tracklista CD 1.