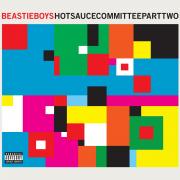 Spis utworów:
1. Make Some Noise
2. Nonstop Disco Powerpack
3. OK
4. Too Many Rappers [new reactionaries version] (featuring NAS)
5. Say It
6. The Bill Harper Collection
7. Don't Play No Game That I Can't Win (featuring Santigold)
8. Long Burn The Fire
9. Funky Donkey
10. The Larry Routine
11. Tadlock's Glasses
12. Lee Majors Come Again
13. Multilateral Nuclear Disarmament
14. Here's A Little Something For Ya
15. Crazy Ass Shit
16. The Lisa Lisa/Full Force Routine
Wykonawca: BEASTIE BOYS
Tytuł: HOT SAUCE COMMITTEE PART TWO
Dystrybutor: CAPITOL / EMI MUSIC PL
Premiera - 02.05. 2011. Płyta Hot Sauce Committee Part Two została wyprodukowana przez Beastie Boys i zmiksowana przez Philippe'a Zdara. To najnowsze wydawnictwo długogrające Mike'a "Mike'a D" Diamonda, Adama "Ad Rocka" Horovitza i Adama "MCA" Yaucha od nagrodzonego Grammy instrumentalnego The Mix-Up z 2007 roku.