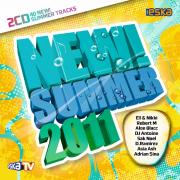 Spis utworów:
1. Ell & Nikki - Running Scare
2. Aloe Blacc - I Need A Dollar
3. DJ Antoine vs Timati Feat. Kalenna - Welcome To St. Tropez"(DJ Antoine & Mad Mark)
4. The Nycer Feat. Deeci - Nasty Girl"
5. Sak Noel - Loca People
6. Adrian Sina Feat. Beverlei Brown - I Can't Live Without You
7. Remady - Save Your Heart
8. Josh Mosh Feat. Sarah Jane - It's Alright
9. Dirty Rush Feat. Akil Wingate - Wonderfull Love
10. Drilla - Wrong Name
11. Basslovers United - Ghetto Supastar
12. DJ Manix Feat M Slice - Just A Kiss
13. Cool Mike & Lady J - Mother Earth
14. Danny Fernandes - Take Me Away
15. South Blast! Feat. Paula P'cay - Who Made It
16. Double Stars feat. Mike W - I Still Believe
17. Tyler Medeiros Feat. Danny Fernandes - Girlfriend"
18. Roby - My Dream
19. Helou - Smak Nocy
20. ZDN - Tysiące Mil
Wykonawca: RÓŻNI WYKONAWCY
Tytuł: NEW! SUMMER 2011
Dystrybutor: MY MUSIC / EMI MUSIC PL
Premiera - 14.06.2011. NEW! Summer 2011 – to już 11 odsłona wyjątkowej muzycznej serii spod znaku NEW! Najbogatsza porcja najnowszych hitów po raz kolejny trafia do rąk słuchaczy. Na dwóch płytach tradycyjnie znalazły się same nowości z gatunku muzyki POP, DANCE i CLUB. Ell&Nikki, Robert M, Aloe Blacc, DJ Antoine, Sak Noel, D. Ramirez, Asia Ash, Adrian Sina i inni sprawią, że nadchodzące lato upłynie pod znakiem najlepszych muzycznych doznań i doskonałej zabawy. Album NEW! SUMMER 2011, to pozycja obowiązkowa tegorocznych wakacji! Obok tracklista CD 1.