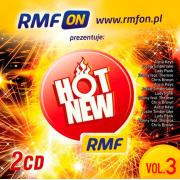 Spis utworów:
1. RIHANNA- DIAMONDS
2. LANA DEL REY- SUMMERTIME SADNESS
3. LYKKE LI- I FOLLOW RIVERS
4. LENKA- EVERYTHING AT ONCE
5. EWELINA LISOWSKA- W STRONĘ SŁOŃCA
6. PINK- TRY
7. THE LUMINEERS- HO HEY
8. IMANY- YOU WILL NEVER KNOW
9. ELLIE GOULDING- ANYTHING COULD HAPPEN
10. REA GARVEY- WILD LOVE
11. JULA- KIEDYŚ ODNAJDZIEMY SIEBIE
12. MCFLY- LOVE IS EASY
13. TAIO CRUZ- FAST CAR
14. HONOROTA "HONEY" SKARBEK- LALALOVE
15. HAIM- DON'T SAVE ME
16. MAROON 5- DAYLIGHT
17. JESSIE WARE- NIGHT LIGHT
18. GOSSIP- GET A JOB
19. AMY MACDONALD- 4TH OF JULY
20. ROBBIE WILLIAMS- DIFFERENT
Wykonawca: RÓŻNI WYKONAWCY
Tytuł: RMF ON - HOT NEW VOL.3
Dystrybutor: MAGIC RECORDS / UNIVERSAL MUSIC PL
Premiera - 22.01.2013. Wydawnictwo Radia RMF FM, RMFon.pl i Magic Records. Na płycie znajdą się same nowośći muzyczne, najnowsze i najświeższe hity grane na antenie radia. Rihanna, Lana Del Rey , Honorata "Honey" Skarbek, Imany, Nicki Minaj, Jessie Ware, Robbie Williams, Rafał Brzozowski Feat. Liber, Maroon 5, Amy Macdonald, Ellie Goulding. Obok tracklista CD 1.