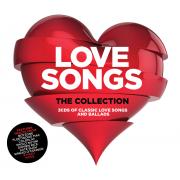 Spis utworów:
1. Paolo Nutini - Last Request
2. Damien Rice - Cannonball
3. Coldplay - The Scientist
4. Gabrielle Aplin - Power Of Love
5. Birdy - Skinny Love
6. Nerina Pallot - Sophia
7. Kate Bush - Wuthering Heights
8. Van Morrison - Crazy Love
9. Rae Morris - Don't Go
10. Bread - Make It With You
11. Rumer - Slow
12. Pretenders - I'll Stand By You
13. Athlete - Wires
14. Lewis Watson - Stay
15. Joshua Radin - I'd Rather Be With You
16. Lianne La Havas - Lost & Found
17. Bat For Lashes – Laura
Wykonawca: RÓŻNI WYKONAWCY
Tytuł: LOVE SONGS - THE COLLECTION
Dystrybutor: WARNER MUSIC / WARNER MUSIC PL
Premiera - 09.02.2015. 3 CD. Idealny podkład pod zbliżające się walentynki. Trzy płyty, a na nich aż 50 wspaniałych piosenek o miłości! Na kompilacji można znaleźć zarówno wspaniałe, współczesne, romantyczne utwory, śpiewane chociażby przez Paolo Nutiniego ("Last Request"), Damiena Rice'a ("Cannonball"), czy Birdy ("Skinny Love"), klasyki z lat 80. i 90. (np. Wuthering Heights" Kate Bush, "Nothing Compares 2U" Sinead O Connor, "I Want To Know What Love Is" Foreigner, czy "What's Love Got To Do With It" Tiny Turner), jak i przepiękne utwory o miłości sprzed paru dekad (choćby "When A Man Loves A Woman" Percy'ego Sledge'a). Obok tracklista CD 1.