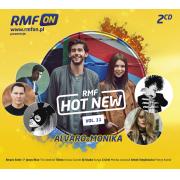 Spis utworów:
1. ALVARO SOLER FEAT. MONIKA LEWCZUK - LIBRE
2. LP - OTHER PEOPLE
3. JONAS BLUE FEAT. RAYE - BY YOUR SIDE
4. BURAK YETER FEAT. DANELLE SANDOVAL - TUESDAY
5. THE WEEKND FEAT. DAFT PUNK - I FEEL IT COMING
6. TIËSTO FEAT. BRIGHT SPARKS - ON MY WAY
7. SIA - MOVE YOUR BODY
8. ARIANA GRANDE FEAT. NICKI MINAJ - SIDE TO SIDE
9. MATTHEW KOMA - KISSES BACK
10. FLY PROJECT FEAT. ANDRA - BUTTERFLY
11. DJ SNAKE FEAT. JUSTIN BIEBER - LET ME LOVE YOU
12. SEEB FEAT. JACOB BANKS - WHAT DO YOU LOVE
13. ADAM STACHOWIAK - WRACAM CO NOC
14. MANDEE FEAT. MARIA MATHEA - SUPERSTAR
15. ALAN WALKER - ALONE
16. C-BOOL FEAT. GIANG PHAM - MAGIC SYMPHONY
17. YOUNG STADIUM CLUB - FOREVER YOUNG
18. FEEL - ZOSTAŃ ZE MNĄ
19. SHAWN MENDES - MERCY
20. RAG'N'BONE MAN - HUMAN
Wykonawca: RÓŻNI WYKONAWCY
Tytuł: RMF ON - HOT NEW VOL.11
Dystrybutor: MAGIC RECORDS / UNIVERSAL MUSIC PL
Premiera - 10.03.2017. 2 CD. "RMF Hot New vol. 11" to podwójna kompilacja poświęcona najnowszym i najbardziej pożądanym hitom, które rozgrywane są przez Radio RMF FM i RMF On. "RMF Hot New vol. 11" – album, który znakomicie sprawdzi się na każdej imprezie. Wszystkie najnowsze i największe przeboje, które nie pozwolą Wam się nudzić na dwóch płytach, w tym m.in. Alvaro Soler, LP, Jonas Blue, DJ Snake, Ariana Grande czy Monika Lewczuk i Antek Smykiewicz. Obok tracklista CD 1.