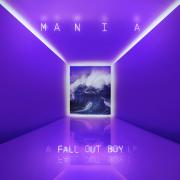 Spis utworów:
1. Young And Menace
2. Champion
3. Stay Frosty Royal Milk Tea
4. HOLD ME TIGHT OR DON'T
5. The Last Of The Real Ones
6. Wilson (Expensive Mistakes)
7. Church
8. Heavens Gate
9. Sunshine Riptide (feat. Burna Boy)
10. Bishops Knife Trick
Wykonawca: FALL OUT BOY
Tytuł: MANIA
Dystrybutor: UNIVERSAL ISL. UK / UNIVERSAL MUSIC PL
Premiera - 19.012018. "M A N I A" to następca nagrodzonego platyną albumu "American Beauty/American Psycho", który w styczniu 2015 roku zadebiutował na pierwszym miejscu listy Billboardu. Najnowszy album promują single "Champion", Young And Menace" oraz "Hold Me Tight Or Don't".