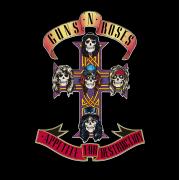 Spis utworów:
1. Welcome To The Jungle
2. It's So Easy
3. Nightrain
4. Out Ta Get Me
5. Brownstone
6. Paradise City
7. My Michelle
8. Think About You
9. Sweet Child O' Mine
10. You're Crazy
11. Anything Goes
12. Rocket Queen
Wykonawca: GUNS'N'ROSES
Tytuł: APPETITE FOR DESTRUCTION
Dystrybutor: GEFFEN / UNIVERSAL MUSIC PL
Premiera - 21.07.1987. "Appetite For Destruction" został wydany 21 lipca 1987. Na krążek trafiły takie przeboje jak "Sweet Child O' Mine", "Welcome To The Jungle", "Nightrain" czy "Paradise City". Do dziś album jest najlepiej sprzedającym się debiutem w USA, a na całym świecie zakupiono ponad 30 milionów egzemplarzy.