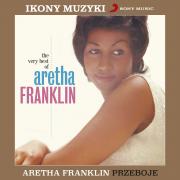 Spis utworów:
1. The Shoop Shoop Song
2. Walk On By
3. Try a Little Tenderness
4. Every Little Bit Hurts
5. Mockingbird
6. God Bless The Child
7. Soulville
8. Jump to It
9. Who's Zoomin' Who?
10. Better Friends Than Lovers
11. Freeway Of Love
12. I Got Your Love
13. Get It Right
14. Until You Say You Love Me
15. Jumpin' Jack Flash
Wykonawca: ARETHA FRANKLIN
Tytuł: IKONY MUZYKI - ARETHA FRANKLIN
Dystrybutor: SONY MUSIC PL
Premiera - 22.06.2018. stworzona z myślą o fanach muzyki pop na najwyższym poziomie. Ikony Muzyki to najciekawsze wydawnictwa typu BEST OF ponadczasowych gwiazd światowej muzyki rozrywkowej z katalogu Sony Music.