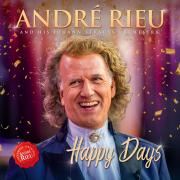 Spis utworów:
1. Second Waltz
2. Tritsch Tratsch Polka
3. Griechischer Wein
4. Ob blond, ob braun
5. Medley from The Merry Widow (Lippen Schweigen, Ja das Studium der Weiber, Grisetten-Lied
6. Happy Days Are Here Again
7. Amigos Para Siempre
8. Im Weissen Rössl
9. Viva España
10. Heut' kommen d'Engerln auf Urlaub nach Wien
11. I Could Have Danced All Night (from My Fair Lady)
12. With A Little Bit Of Luck (from My Fair Lady)
13. Ganz ohne Weiber geht die Chose nicht
14. Buglers Holiday
15. Those Were The Days
16. Paloma Blanca
17. Die Mädis vom Chantant (from The Gypsy Princess)
18. Komm Zigany, Csardas (from Countess Maritza)
19. Mexico
20. Adieu, mein kleiner Gardeoffizier
Wykonawca: ANDRE RIEU
Tytuł: HAPPY DAYS
Dystrybutor: OTHER CLASS / UNIVERSAL MUSIC PL
Premiera - 22.11. 2019. Album celebrujący wyjątkową karierę Andre Rieu! 1 października 2019 roku to rocznica 70 urodziny artysty! Album dostępny także w wersji Deluxe z DVD zawierającym fragmenty koncertu z Wiednia oraz wypowiedzi Andre Rieu.