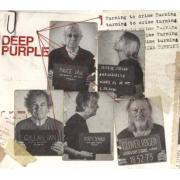 Spis utworów:
1. 7 And 7 Is (Love)
2. Rockin' Pneumonia And The Boogie Woogie Flu (Huey "Piano" Smith)
3. Oh Well (Fleetwood Mac)
4. Jenny Take A Ride! (Mitch Ryder & the Detroit Wheels)
5. Watching The River Flow (Bob Dylan)
6. Let The Good Times Roll (Ray Charles & Quincy Jones)
7. Dixie Chicken (Little Feat)
8. Shapes Of Things (The Yardbirds)
9. The Battle Of New Orleans (Lonnie Donegan/Johnny Horton)
10. Lucifer (Bo Seger System)
11. White Room (Cream)
12. Caught In The Act
Wykonawca: DEEP PURPLE
Tytuł: TURNING TO CRIME
Dystrybutor: EDEL / MYSTIC PRODUCTION
Deep Purple powracają z nową płytą, która jest jak żadna inna do tej pory. "Turning To Crime" została nagrana w czasie izolacji i jest pierwszym albumem w historii zespołu, na który składają się utwory stworzone i nagrane wcześniej przez innych artystów. Za produkcję krążka, tka jak w przypadku trzech ostatich płyt zespołu, odpowiadał Bob Ezrin.