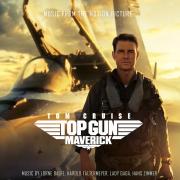 Spis utworów:
1. Main Titles (You've Been Called Back to Top Gun)
2. Danger Zone by Kenny Loggins
3. Darkstar
4. Great Balls of Fire (Live) by Miles Teller
5. You're Where You Belong / Give 'Em Hell
6. I Ain't Worried by OneRepublic
7. Dagger One is Hit / Time to Let Go
8. Tally Two / What's the Plan / F-14
9. The Man, the Legend / Touchdown
10. Penny Returns – Interlude
11. Hold My Hand by Lady Gaga
12. Top Gun Anthem
Wykonawca: MUZYKA FILMOWA
Tytuł: TOP GUN: MAVERICK
Dystrybutor: UNIVERSAL / UNIVERSAL MUSIC PL
Premiera: 27.05.2022. Oryginalna ¶cieżka dĽwiękowa do filmu Top Gun 2: Maverick zawiera single "Hold My Hand" Lady Gagi oraz "I Ain't Worried" OneRepublic. Na soundtracku znajdziemy również muzykę ilustracyjn±, remake klasyka "Great Balls of Fire" oraz niezapomniany utwór Top Gun "Danger Zone".